Key Features
: Android 4.4 KitKat; 5-inch 720pHD display; 1.2GHz Snapdragon 400 processor; Dual SIM; 8GB and 16GB models; microSD card support up to 32GB; 8-megapixel camera; 2-megapixel front-facing camera; dual front-facing stereo speakers
The original
Moto G
was Motorola's best-selling phone ever, and remains the only phone we've given 10/10. That's a tough act to follow. The Moto G 2 aims to improve on that success.
The basic formula remains the same, but the changes are clear to see. It has a bigger 5-inch screen, improved cameras and front-mounted stereo speakers, but crucially it still costs less than £150 SIM-free.
All that means the Moto G 2 to take the mantle of best budget phone on the market, but is it really enough to make owners of the original 4.5-inch Moto G want to upgrade? That's less clear.
Moto G 2 (2014): Design & Features
The Moto G 2 doesn't look dramatically different from the original. There's no
One M8
-style aluminium body or glass back like the
Xperia Z3
, but then we never expected that. It's all plastic with a glossy finish on the front and soft-touch matte on the back.
It's a pretty standard approach to design for cheap Android phones, but like the Nexus 5 it manages to avoid making the plastic design look or feel cheap. There's no troubling signs of poor build quality and it feels like it can withstand a few bumps scrapes.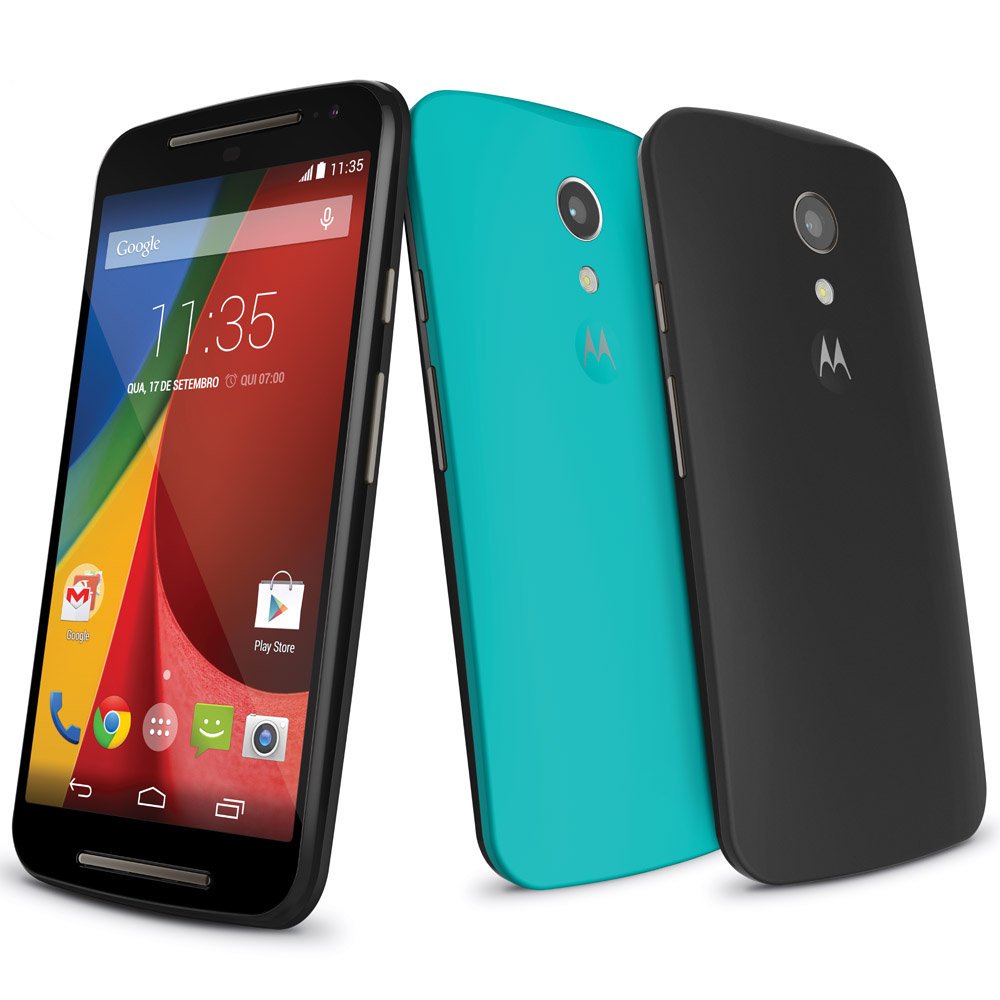 The back still has the same soft touch finish and slightly curvy body, which makes it nice to hold. It's not as comfortable as the original, though, mainly due to it being wider. At 11mm thick and 149g it's slightly thicker and heavier, though it's no chunkier than most 5-inch phones.
Motorola offers the new Moto G in black and white, but it supports a number of colourful replaceable back shells. It's a nice option if you find the standard ones a bit drab. The only problem is the rear-cover isn't the easiest to remove, so you need be careful when removing the cover. It's something we'd like to see Motorola fix in future versions.
Behind the cover you'll find the same 2,070mAh non-removable battery and the micro SD card slot, which was missing from the 3G-only model of the original Moto G but added for the 4G versions.
You'll also find the surprising new inclusion of Dual SIM card slots. There's room to keep two micro SIM cards, which can be useful if you are one holiday and want to use a local SIM to make cheaper calls or if you have a business and personal number. Motorola also sets aside settings dedicated to the Dual SIM where you can manually switch between the two. Additionally, you can use intelligent calling where the phone learns which SIM to use depending on the call.
The most surprising element of SIM card support, though, is the lack of 4G LTE support. No 4G made sense last year when networks were new and limited, but Motorola corrected that with the Moto G 4G edition. Why it's gone backwards now is puzzling in the extreme.
One final change is the addition of front-facing speakers, which sit above and below the display. It's a welcome move away from the rear speaker on the original, ensuring sound is projected towards you instead of being buried behind in the back. One issue, however, is that the gap around the speaker is just wide enough to trap fluff and muck phones generally have a habit of attracting.
Moto G 2 (2014): Screen
Motorola says it listened to feedback on the first Moto G and one of the things users wanted was a bigger screen. So that's what we've got. Moving to a 5-inch screen will be disappointing for some as there's no doubt still an appetite for smaller phones, but as Apple has shown, even the iPhone is getting bigger.
The new Moto G 2 doesn't budge from a 720p HD resolution screen, however, which means it has slightly fewer pixels per inch, 295ppi vs the 326ppi of the original. It still uses Corning Gorilla Glass 3 to protect against scratches, which is always a bonus to have on any phone.
This is still a great quality phone for a sub-£150 phone. It's not as impressively sharp as the original, but there's not a great deal to complain about here. Compare it to similarly priced mid-range phones like the
Sony Xperia M2
, which only offers a 480 x 800 resolution screen, and you can get an idea of how much Motorola is giving us here.
Moto G 2 (2014): Camera
One of the most mid-range qualities of the first Moto G was the 5-megapixel main camera. It was mediocre at best. Thankfully, things do get noticeably better with the new Moto G. There's now an 8-megapixel sensor with LED flash and a 2-megapixel front-facing camera, which surprisingly is one of the better selfie-shooters we've used on a smartphone at any price. It doesn't take very long to realize there's a big improvement in overall image quality. You obviously won't get Galaxy S5 or One M8-quality images here and it struggles in low-light, but in the right conditions it delivers some pleasing results.
That's helped by a pretty simple camera app. This is not the stock one you find on most Android phones, though. Menus are hidden away to give you a full, uninterrupted view of the scenery. All you have is the video camera button and switch camera modes.