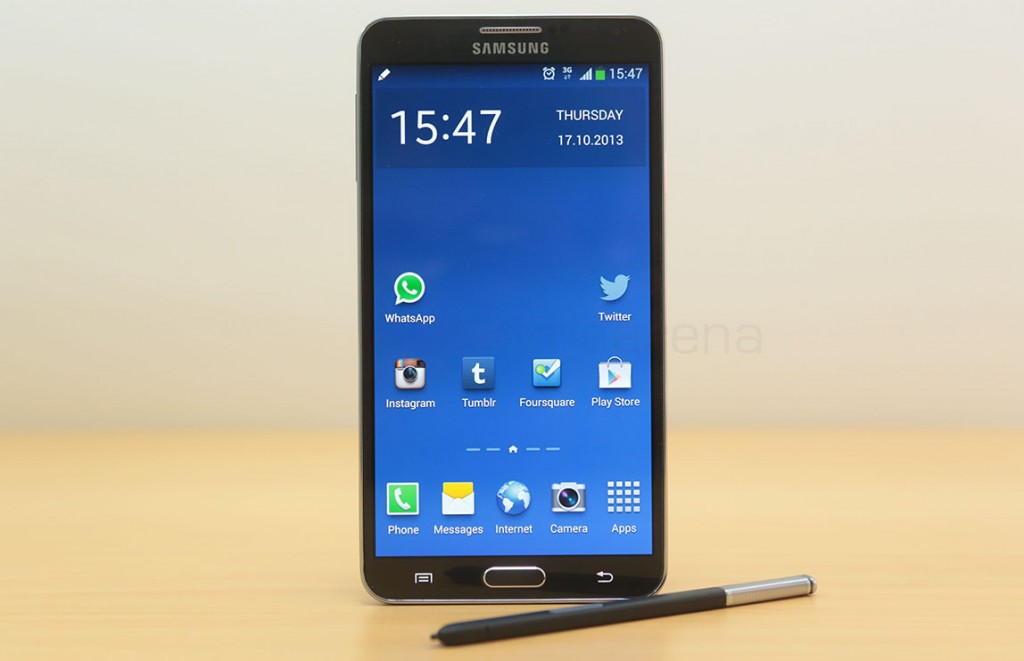 Three is the magic number. Three is lucky. Three's a crowd. Okay, ignore that last one, but the number 3 does also apply to the
latest Galaxy Note
, and we're curious to know which of those maxims might apply. What are the marquee features this time around? Well, there's the usual bevy of specification improvements (a 5.7-inch display, quad-core Snapdragon 800 and 3GB of RAM), Android 4.3, some new S Pen features and the small matter of the
Gear
, that optional, polarizing companion watch.
Samsung makes a great many products, even if you just consider the mobile ones. However, since it burst into existence in 2011, the Note has been up there with the Galaxy S series on the flagship pedestal. So, it'd be fair to say that we're expecting big things from this big phone, but with a SIM-free price in the UK of £620, it requires even deeper pockets than
its predecessor
did at launch (that one cost around £530). That said, if you want one, you'll need big pockets anyway. While you check their size, we've scribbled, doodled and gestured the Note 3 with abandon to see if it's worth the bounty. Read on to find out if it is.
Hardware
We know the drill, and we know that you know it too. The Galaxy Note 3 is a large phone that offers a similar experience to a small tablet (we're avoiding
that
word); its particular party trick being the now-familiar S Pen. As for aesthetics, we once again find ourselves on well-trodden ground, as Samsung largely opted for minor tweaks this time around. That said, in a lineup, the Note 3 probably shares more of a family resemblance with
the original
than the Note II, thanks to its much straighter lines. In a way, this also follows the evolution of the
Galaxy S 4
, which was ever-so-slightly less curvaceous than the phone it deposed. One thing's for sure: you can't accuse Samsung of being inconsistent. If we get out the measuring tape, we'd see that it's 5.95 inches (151.2mm) tall, 3.1 inches (79.2mm) wide and 0.33 inch (8.3 mm) deep. Number fans will be quick to note that despite the larger display (5.7 inches, up from 5.5), the Note 3's footprint has remained largely unchanged. In fact, it's a hair thinner and narrower, and only 0.1mm longer. This design voodoo doesn't end there, as the phone has even shed a fraction of an ounce, dropping from 6.35 oz. (180g) to 5.93 (168g).
While the overall appearance might be little more than a gentle massage of a tried-and-true formula, there are a few differences that are worth mentioning. We'll start with the edges, which, sadly, continue to have that faux-metal finish. This is a real shame. We firmly believe that upgrading to an actual metallic band (at least across the premium Galaxy models) would give them a much more premium feel. At the very least, it'd spare a lot of disappointed sighs from people after picking up these devices for the first time.
Display
When you've got a screen this large (5.7 inches, in case you forgot), it only seems fair to give it some of its own airtime. The good news is that the resolution has been increased to complement the extra real estate. This is a 1,920 x 1,080 "FHD sAMOLED" panel, if you go by Samsung's nomenclature, but essentially, it's a full HD Super AMOLED screen. This equates to a pixel density of 386 ppi, if you're counting, and that's a marked improvement over the OG Note (285 ppi) and Note II (267 ppi). Much more importantly, it looks great. Colors are bright and vibrant and those equally important blacks are nice and dark as you'd hope. Sometimes it can be a little too saturated, if anything, like when using the camera viewfinder. Brightness and contrast really make images pop, and the viewing angles are wide -- great for video. With so much space, viewing photos and video is a step up from what you may be used to with "smaller" phones -- these days, anything less than 4.3 inches. As for the great outdoors, (when you're clocking up your S Health stats, naturally) the screen remains clearly visible, even without jacking up the brightness to extreme levels. Though, of course, this depends on a number of factors: how bright it is where you are, the angle of the sun, et cetera.
Software
What makes the Note series unique isn't just the form factor; it's the inclusion of the S Pen. Accordingly, the Note 3 also gets some new software features to make use of that pen accessory. While we're definitely looking at Android (Jelly Bean 4.3), it's still hidden under TouchWiz, a UI that Samsung has a habit of peppering with its own software. The most well-known examples of this are all the "S" apps -- S Voice, S Planner and the like. These, as you might expect, are all present and correct, with no noticeable core differences from previous iterations. Other familiar faces include S Health, Samsung Hub, Samsung Link and ChatON. There's also a new addition called "My Magazine." There are a couple of updates to the S Pen-specific apps, too, which we'll cover later.
Since it's new, let's start with that My Magazine app. Essentially it's a partnership with Flipboard that brings the glossy social / news feed you may be familiar with to a dedicated Samsung app. To access it, simply swipe up from the bottom of the screen, or press the home key when on the home screen (an option you can disable). The first time you open it, you'll be met with a polished-looking video splash screen, and then a very quick setup. As you might expect, you can choose to receive news from a comprehensive selection of categories such as business, design, movies, sports and technology. Likewise, you can add your social feeds from the usual, and less usual (500px, Sina Weibo) suspects, with Facebook being a glaring omission.
S Pen
We know we just spent a good deal of time talking about the Note 3's companion pen, but a closer look at the hardware is in order too. Most importantly, there's the small matter of its behavior with the phone's capacitive buttons. Until now, tapping the S Pen on the back or menu key of the two prequel Notes was an exercise in futility. Not anymore. Yes, Note fans, you can finally use the S Pen on the capacitive buttons. You'll still have to physically depress the home button, but, hey, this is definitely progress.
As for the pen itself, there are some subtle differences in the external appearance, especially in the silver section up top. It's still plastic, but instead of a brushed-metal look, it's faux-ridged metal. This at least makes it match those faux book lines. The size and button are very similar to the Note II's pen, as is the position of its housing on the phone (bottom-right corner). We commented in our preview that it felt a little tough to tug at when trying to remove it. This is still true. Perhaps at the very least, you'll stop worrying about it dropping out after spending a few months with the phone. That said, despite the seemingly snug fit, there is a little jiggle space if you place the tip of your finger on the end and move it back and forth in place.
Gear
One other hotly anticipated (and controversial) announcement at this year's IFA was of course the Galaxy Gear smartwatch. We'll very soon be publishing a separate review of the Gear, but we've already had the chance to spend some time with it, and in conjunction with the Note 3 -- one of only two devices currently compatible. Setting it up is easy. The watch's charging cradle contains an NFC tag; just tap it with the Note, and it automatically downloads the app, installs it and pairs the two devices together. It even sets the time on the watch.
The companion app makes it easy to interact with the Galaxy Gear. The first thing you'll want to do is choose the clock screen from a choice of analog-style faces, to digital clocks with app shortcuts, etc. Then you can dive into the settings, where you can set the phone to auto lock when out of range of the watch (i.e., require a passcode), choose notifications and assign what app opens on a double-press of the Gear's button. After you've set things just how you like them, you can browse the available apps for the smartwatch and install them directly via the companion app. If you're imagining that there's not much available, you'd be largely right -- but there's still more than we expected. Even a couple of big names, such as Line, Pinterest, Pocket and Evernote are present. That last one gives an idea of how the two devices really can work together. With Evernote installed on the watch, you can take a photo and have it automatically uploaded to your account on the cloud. Great for snapping that special something you saw in a shop, or that quirky graffito in the street without looking too conspicuous, or having to get your phone out.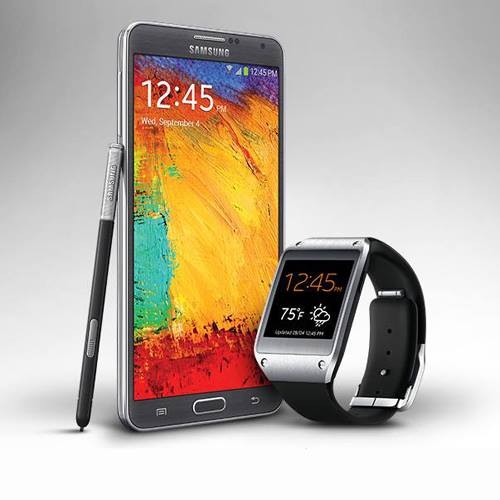 Camera
Fancy yourself as a bit of a picture buff, do you? Well if you headed here first, maybe you are. The big number you're likely interested is 13. That's the megapixel count for the main shooter (it's just 2MP on the other side). On the software side of things, there are a couple of differences to what you might have seen in other recent Samsung devices like the Galaxy S 4. For starters, Night mode has disappeared, leaving only "Smart Stabilization," for low-light situations -- which looks remarkably similar to the GS4's auto night-detection option anyway. All of the other camera modes from before are present, such as Best Face, Eraser, Sound and Shot plus two more new ones -- Golf and Surround Shot. The former might sound somewhat specific -- a whole mode for golf photos -- and that's because it is. Choosing this option (available in landscape only) overlays a semi-opaque image of a golfer surrounded by a circle. The idea there is to frame your subject within this, and the camera will auto-detect the swing. Once complete, you'll have a series of photos that you can scrub through, back and forth, to analyze your form. Or mock your friend, depending on how good you are.