Key Features
: Full metal unibody design; 1.2GHz quad-core Snapdragon 410 processor; 13-megapixel main camera; 5MP front-facing camera; 16GB internal memory 2GB RAM; 4G connectivity
The Samsung Galaxy A5 is Samsung's latest stylish mid-range phone and a follow-up to last year's Samsung Galaxy Alpha. It's around half the price of the upcoming Galaxy S6, but its metal-framed design makes it look and feel like a pricier phone.
It still offers speedy 4G connectivity for fast internet usage, decent cameras and a 5-inch HD (720 x 1280) display, but it has a mid-range processor. That means it faces tough competition from phones such as the
Moto G
(4G),
Huawei Ascend G7
,
Sony Xperia Z3 Compact
and even the
LG G3
. It's a good option if you want a phone that looks and feels high end, though the fact it ships with Android 4.4 KitKat and not 5.0 Lollipop is a little disappointing.
Samsung Galaxy A5 – Design
We already know what some of you are going to say: "But it looks just like an iPhone!" If by that you mean it looks crafted, rather than simply made, or that it looks high-end and radiates quality, then yes, it's just like an iPhone.
The Galaxy A5 is further proof of Samsung's renewed focus on quality design. It started with the Galaxy Alpha towards the end of last year, and continued through the Note 4 and Note 4 Edge, and the Galaxy A5 is the most desirable Samsung phones we've seen.
Comparisons to the iPhone 5S are inevitable, but the A5's larger screen and slimmer, 6.7mm thick body make it more attractive – we also prefer the smooth plastic on the rear of the A5, with its subtle pearlescent finish.
The cover can't be removed, unfortunately, which is a sacrifice we have to accept for the sleek sealed unibody design. However, you can increase the phone's built-in 16GB storage by adding an external microSD card up to 64GB.
Of the phones we've come across recently, the Galaxy A5 is one of the most immediately attractive devices to hold. It strikes a near perfect balance between being comfortable to use one-handed, while including a large, engaging screen. It's an added bonus that it slips in and out of pockets easily.
We can see some people being hung up on the slight protrusion of the A5's camera as it sticks out about 1.5mm, like the camera on the S6. But just as it isn't an issue for us with the S6, there's no complaint here either. It has no negative impact on using the phone and doesn't harm its looks either.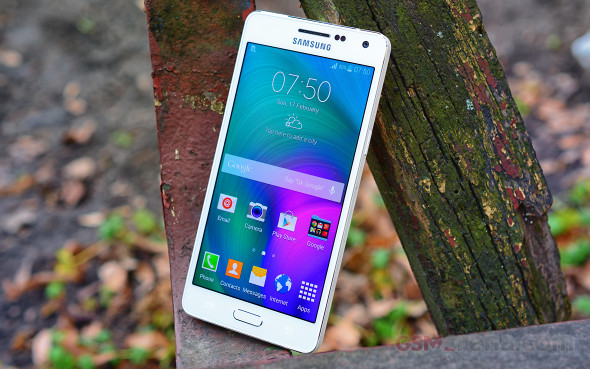 Samsung Galaxy A5 – Screen
The 5-inch HD (720 x 1280) screen of the Samsung Galaxy A5 sounds ordinary until you remember it uses the same Super AMOLED screen tech as Samsung's top-end phones.
Super AMOLED screens have superior contrast compared to IPS LCDs commonly used in mid-to-low-end devices, as well as iPhones. It looks great when viewed in ambient and low light conditions, but in bright sunlight darker elements are difficult to see — even at full brightness.
As we've come to expect, the Super AMOLED screen on the A5 reproduces colours excellently, but the A5 is let down a little by its 720p resolution, leaving the screen with a slight softness that betrays the phone's high end look and feel. This is the weakness of AMOLED screens, as the way they're made means they look fuzzier than LCDs at the same resolution.
As a result, the pixel structure is visible when you look closely, especially on the edges of icons and in-game elements. The effect is less noticeable when watching videos, though. We'd describe the screen as smooth overall, with deep black tones and vibrant colours. But at times the colours are a touch over-saturated.
If you want to make adjustments to the screen's colours you can do so in the settings, under Display and wallpaper > Screen mode. There are four options; Adaptive display, AMOLED cinema, AMOLED photo and Basic. Adaptive display adjusts the display depending on the application you're using, switching to photo for example when using the Gallery app.
Samsung Galaxy A5 – Software and Performance
We can make some allowances as the phone was technically created pre-Lollipop, but we were disappointed nonetheless. The good news is that Samsung is currently rolling out an update for this phone so this minor issue should be solved over the coming weeks.
It's good to see that there are fewer pre-installed apps on the A5 than previous Samsung phones, which is a positive move. This helps the A5 run relatively smoothly, although we did experience a couple of minor stability issues where we had to restart the phone.
Samsung Galaxy A5 – Camera
The Samsung Galaxy A5's main camera uses the popular 13-megapixel Sony Exmor RS IMX135 sensor, the same sensor used in our mobile phone of 2014, the
LG G3
, as well as an increasing number of mid-range handsets. So while it may be a little dated heading into 2015, it's no slouch. In fact, there aren't many mid-range phones that perform better.
It takes less than two seconds to start the camera, whether from the home screen or from the shortcut provided on the lock screen. It's simple enough for even a child to use, but those who want more control can control ISO (up to ISO 800), white balance, metering and exposure settings.