Introduction
The
Samsung Galaxy Grand 2
is the second-generation of the phone Samsung released last year as its large-screen Android device for the masses, the original Grand. The new Grand is not all that gigantic by today's standards with its 5.25-inch display, but it's still as affordable and well-connected with support for dual SIM connectivity.
It's also gotten some huge upgrades practically all along the spec sheet: gone are the sub-par 480p display and the small battery - the Grand 2 is now leaner and meaner with a pleasingly sharp 720p screen, a larger battery, and a speedier quad-core Snapdragon 400 system chip.
Design
The Galaxy Grand 2 adopts the faux-leather stitched design that Samsung first used in the
Note 3
, but while in the Note 3, the plastic features a soft and pleasant leathery feel, in the Grand 2, it feels like nothing more than just styled but still cheap plastic. Nonetheless, having this even most basic imitation of leather is better than dealing with the glossy plastic Samsung habitually used in the past - the patterned back of the Grand 2 does not get stained easily and has a better in-hand feel.
In terms of size, the body of the Grand 2 has gotten thinner (8.9mm vs 9.6mm thickness) and narrower (2.96" vs 3.03" width) than that of the original phone, and while it's still hard to qualify the big-screened Grand 2 as slim, it's a more ergonomic phone that is easier to use. The second-gen Grand is also solidly put together, and does not screek or squeal when you hold it tightly.
The Grand 2 features a large physical home key right below the display, and on its two sides are the capacitive menu and back keys. The other physical buttons are on the side: the lock key on the right is easy to reach and while it's made of uninspiring plastic, it protrudes nicely and has nice travel, making it easy to press. The same can be said about the volume rocker, located on the left side of the phone.
Display
The Galaxy Grand 2 comes with a large and overall fairly decent 5.25-inch LCD display with a resolution of 720 x 1280 pixels. Pixel density comes in at the quite reasonable 280ppi, so images and text appear sharp, unless you have the phone glued to your eyes. While higher-end devices nowadays come with much sharper displays, the screen on the Grand 2 is still a gigantic improvement over the one in the original Grand, and in itself is a fairly solid reason for an upgrade.
In terms of colors, this is a very good display for the mid-range price category of the Grand 2. Colors are punchy and definitely vivid and lively, something that will be considered a plus by most users. However, those who care about perfect color accuracy would notice it's a bit on the cold side, plus there is some oversaturation. Viewing angles are below average, and at a wider angle, colors start looking washed out.
While the Grand 2 has a very bright display, outdoors it's still hard to read as screen reflections are just too noticeable. On the flip side, though, the handset can get down to very low minimum brightness of just 5 nits, a level that makes it very comfortable to read at extremely low light or at night without too much screen glow that tires the eyes.
Software
Thankfully, the Galaxy Grand 2 runs Android 4.3 rather than the older
versions that seem to be predominant on new phones even today.
The bigger story though is Samsung's TouchWiz UI, which is so
extensive that there's almost no visual similarity to stock Android
anywhere.
It starts right from the lock screen. Notifications of unread calls and
messages are front and centre, and all status bar icons are visible.
You'll see a burst of light and an animated lens flare towards the bottom, indicating which way you should swipe to unlock. As you swipe, the
flare follows your finger. It's a nice touch, though somewhat unnecessary.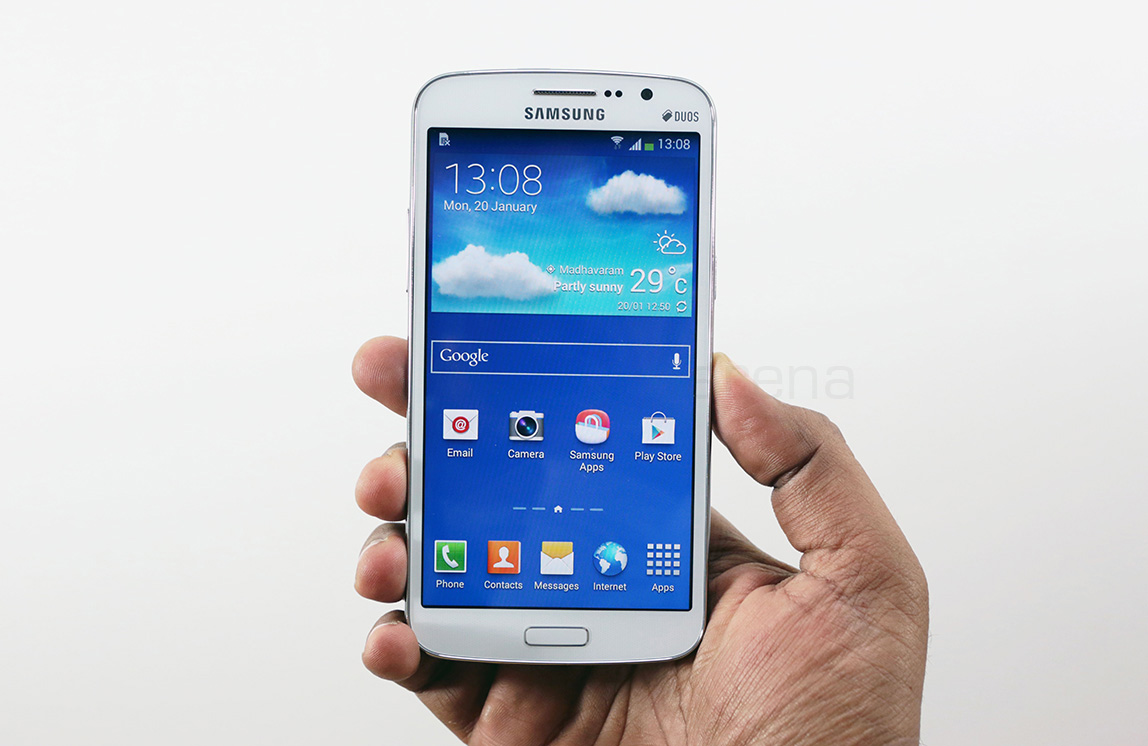 Camera
Of course, Samsung couldn't leave the camera interface untouched.
There's a large Mode button right next to the shutter release and video
capture buttons, which brings up a carousel of options such as
Continuous Shot, Beauty Face, Best Face, Rich Tone (HDR), Panorama,
Sports and Night. Beauty Face is automatically activated when you
switch to the front camera, though we didn't find it made much of a
difference. The rest of the modes all have their uses. Swiping up from
the bottom brings up a row of filters that let you add effects to photos.
Finally, another flyout of options on top lets you control the flash,
timer, storage location, voice commands and social sharing options.
We were very pleased with the camera's performance in daylight. The
8-megapixel images we were able to take were richly detailed. Compression
noise was visible when zooming in, but not otherwise, even on a big
computer monitor. HDR mode produces similarly impressive results.
Even the front camera took some impressive shots.
Video is captured at 720p, and is equally impressive. Our test clips
came out clean and smooth, with adequate detail even at a distance.
However, results for both still and video were only just about passable in low
light. That's not too much of a surprise, and we're still happy with the
camera's performance overall.